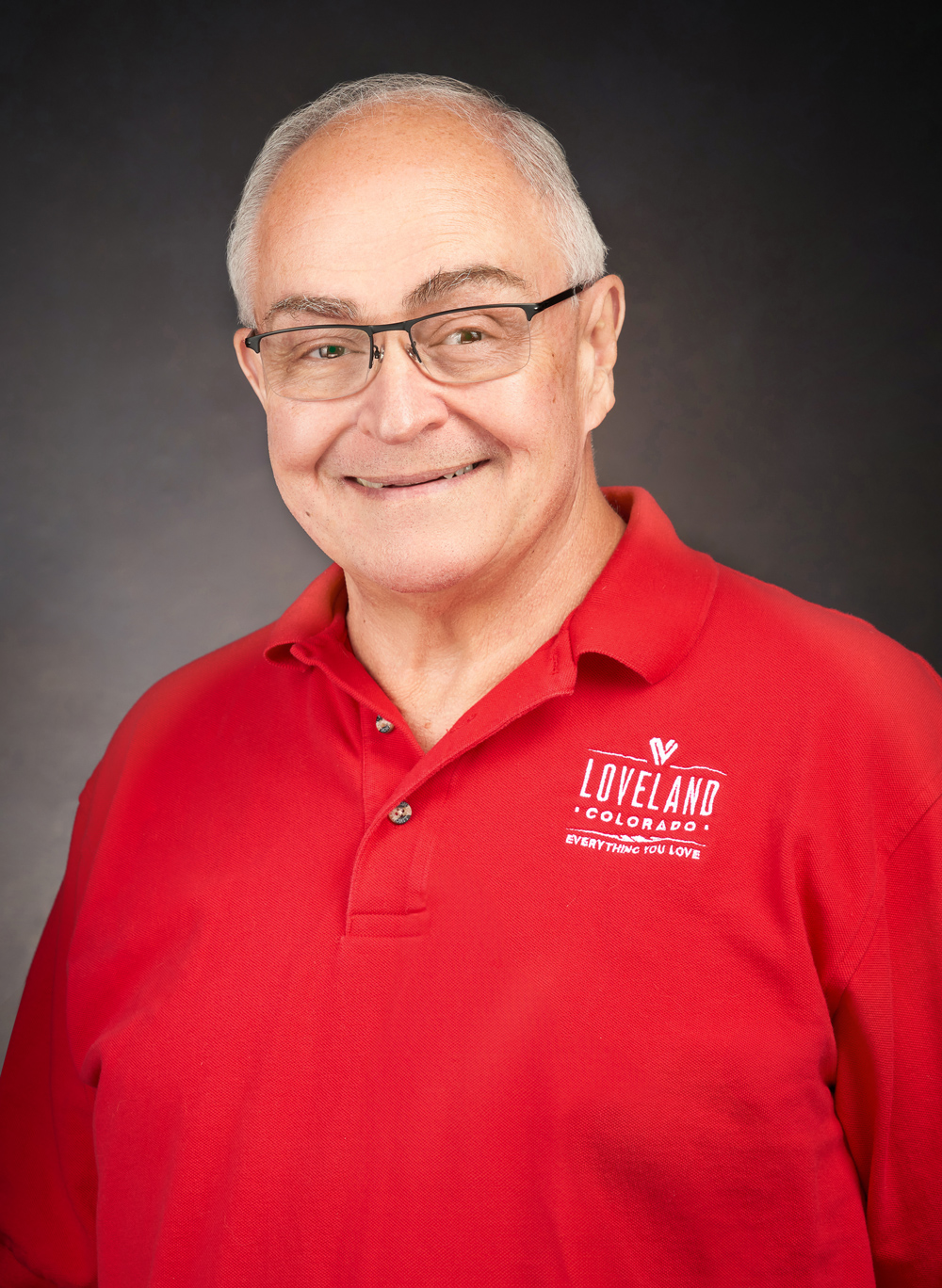 About John
Loveland has been my home for 54 years, and I enjoy the magnificent beauty, wonderful citizens and stunning Artistic setting that makes our town the Sweetheart City.
Through hard work and perseverance I have spent the last 12 years on council working to make our City the best it can be. There is always more to do, and I stand ready to take on the current challenges of Homelessness, Affordable/attainable housing, and safety in our downtown in the next 4 years.
We have had challenges in the last few years, some internal and others thrust on our community by the ever-changing landscape that is American living, but Loveland has persevered, and recovery is underway.
Housing prices have soared – and a large part of our citizens are struggling with the cost of living and inflation. I feel your pain. Our professional daughter lives with my wife and I because of high housing prices! Our only way to get housing prices down is by relieving the supply problem – and I will tackle that!
Lawlessness has become a problem downtown and around the community. I am currently working on this issue and will remain committed to the problem until are streets are once again clean and safe.
I believe in Loveland and the loving spirit that has always been a part of our Sweetheart City.
Whether it be on a Regional, National or local level – one thing will never change for me – "I Vote for Loveland!"
Support John Fogle for Ward III
"John is someone that takes the time to understand and educate himself on the issues that come before Council and then takes an informed approach. He has demonstrated great leadership in helping to bring municipal broadband to Loveland and has been an avid supporter of the efforts to help revitalize the downtown."
Sam Bettersy
Loveland
(From 2019 Campaign)
John Knows How to Get Things Done
"John has continued to show his great support for the community of Loveland in many ways, for many years.  As a long-time businessman and entrepreneur in Loveland, John understands the issues and knows how to get things done."
Jay Hardy
(From 2019 Campaign)
Engaged, Thoughtful, and Well-Informed
"One of government's most important responsibilities is to prepare for the future. That includes knowing what's happening in our region, our state, and nationally. We're fortunate to have a Councilor who dedicates the time required keep up with all that."
Roger Ison
Loveland
(From 2019 Campaign)
A Proven Track Record
"I am supporting John Fogle's bid for re-election to the Loveland City Council.  He has a proven track record of working to make Loveland a great place to live, work, and play.  He has been willing to expend the time and energy necessary to be an effective representative on the City Council."
Cecil Gutierrez
Mayor Emeritus
Loveland
(2019 Campaign)
Important Issues Facing Loveland
Affordable / Attainable Housing
While our local heroes, Loveland Housing Authority and Habitat for Humanity, have more than doubled our affordable housing inventory during my time on council – more needs to be done.
Transportation
Growth comes with a cost. More people = more cars = more of everything. With completion near on the 5-year I-25/Hwy 34 project, our focus now turns to East Eisenhower.
Broadband
In 2013 when I started exploring broadban, Thompson R2J was using Microwave antennae to meet their internet needs, and the system was failing miserably .I took on Broadband as my personal 'windmill' and set out to collect the information necessary to bring Loveland up to 21st Century standards.
Downtown Loveland
While we usher in the new – we cannot forget the past. As a 12 year Council Liaison to the Historic Preservation Commission, I am very proud of the Committee members who ushered in 'Historic Downtown Loveland' after years of hard work, which opened multiple funding sources for our Historic Building owners.
H.I.P. Streets (Heart Improvement Program)
This long-term vision for downtown is now going to become a reality. With the funding mechanisms made possible by the City, and the DDA – this $30 Million+ project is now within reach. Planning is underway – and the current plan is to break ground next spring.
Business Development / Managed Growth
Balancing growth in Loveland is a tricky job. Personal property rights are paramount in the coming growth cycles for our residential community. City Council has the monumental task of managing growth, while keeping Loveland the BEST place to Live, Work and Play in Northern Colorado.
Transparency in Government
Transparency is more than a political 'buzzword', it is a philosophy. I am proud of our City Staff and City Council that have been supporting this philosophy for many years.
The Arts
While the arts enhance our surroundings and offer continuous enjoyment in Loveland, they are also a major contributor to our economy. It has been a pleasure to serve on the Cultural Services Board for the last 8 years.